Amma Bibi Marium Taji Waliya (Kamti Shareef)
Birth And Family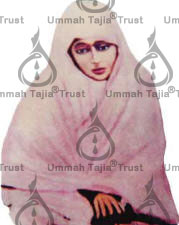 Marium Bi Amma was born in India, at Kajleshore town, Murtaza Por estate, Akolah district on 2nd rajab 1302 Haj'ri according to geog 18 of April 1885, on Saturday. She had 3 brothers and 1 sister. Her father's name was Aziz-ud-din and mother's name was Ayesha Bibi. Marium Bibi completed her studies in the Holy Quran (i.e. Islamic studies). She had a deep relish in her worship. Most of her time passed in contemplate and recluse. Her prayer schedules were not affected even after being a house wife and holding all her married life responsibilities. Her brother Qutb-ud-din brought her back at his home after a few days of her marriage.
She belonged to a family who respected the pious people without any desire of worldly charms.
Two Loving Sons & Arrival of Venerable
Marium Bibi was now staying in Kamti with Her brother Gulam Mohiuddin who was working in Kamti. Her brother came to know that a marvelous and a highly respected venerable had arrived at Kamti. After admiring the qualities of the pious venerable one day Gulam Mohiuddin Sahib requested to the respected venerable and said,
"Sir! It will be my pleaser and honor, if you come and stay with us for a few days and give us the honor of serving you".
The respected venerable agreed to stay with them. One day when all the members of the family were at his service, the venerable said to Marium's mother that "GOD has gifted you with two loving sons Marium Bibi is one of them".
A Long Wait of Baba Tajuddin r.a.
The venerable addressed Marium Bibi;
"Daughter! The sun of wilayat (Saintliness) is rising from the horizon of Nagpur. Go and light up your soul and body with it. This is the time when the mental hospital of Nagpur is honored by the presence of the lords of seven claims, Baba Tajuddin Aulia (r.a.). Go in his service! Since it is written in your fate."
Marium Bibi immediately went to Nagpur's mental hospital to meet Baba Tajuddin (r.a.). As soon as Marium Bibi reached the mental hospital, His Highness stood up from his place; He came near her and said
"I was waiting for you from a long time."
After telling this His Highness rend her bangles off and said;
"Come to Me every day"
Mystic Exercise
As on the recommendation of His Highness, Her Highness Amma Marium (r.a.) visited the mental hospital daily and used to stand out side the main gate on a specific place. There her full concentration and attention was towards His Highness (r.a.). She was so deeply devoted that She altered her way of living.
A year passed away and during this period when His Highness (r.a.) left the mental hospital on the 21 of September 1908 and headed towards Shaker Dara (a city of India). After one month Her Highness Amma Marium (r.a.) accompanied His Highness (r.a.) to Waki. She resided in village Pathan Savange. Even their She continued her devotion and presented her self in front of His Highness (r.a.) who kept His caring, loving and humble sight on her.
This time duration is also based on one year. After struggling continuously for two years for a tough mystic exercise one day His Highness (r.a.) took Her Highness Amma Marium (r.a.) on the bank of Khandan River, A place of desolation and path of wild animals. There His Highness (r.a.) ordered Her highness Amma Marium (r.a.):
"Sit here! Don't move unless I permit you"
Without any hesitation or fear she sat down, obeying His Highness's (r.a.) command and didn't even think once about her daily life requirements. After this His Highness (r.a.) came back leaving Her Highness Amma Marium (r.a.).
To Award Wilayat (Saintliness)
A week passed away the devotees and the disciples of His Highness (r.a.) were very surprised and amazed because His Highness (r.a.) had not  eaten or drank any thing from the past week. Then His Highness (r.a.) arrived on the scene and with a loud voice stated calling;
"Lachan! Wakoreya!"
The farmer, Lachan Wakoreya came up to His Highness's (r.a.) service. Where His Majesty command him;
"Near your farm there is an Amma (Mother) residing. Take food for Her and give your best ever service to Her."
One should contemplate that after a week His Highness (r.a.) was inquiring about Her Highness Amma Marium (r.a.). Immediately, after this Lachan Wakoreya prepared some food and was all set to search Her Highness Amma Marium (r.a.). After a long time of his search he found Her Highness (r.a.) in a thickly dense jungle. She was covered with a Chadar (a white plain cloth) her eyes were closed and she was not moving. He called out Her Highness's (r.a.) name a couple of times but she didn't reply. In the end Wakoreya said;
"I have come here and brought food on His Highness's (r.a.) command"
After listening to the farmer Her Highness (r.a.) immediately got up and took the food from him with a great reverence and ate some morsels of it. People say when Wakoreya went to search Her Highness, a couple of hours later His Highness (r.a.) asked for food but ate his first morsel after a week. When Her Highness (r.a.) finished Her food then the farmer instantly brought some water from the nearby canal and requested Her with a very respectful manner(i.e. with folded hands) and said;
"It is an order for me from His Highness (r.a.) that I should look after you I know it is a tough job for me. Her Majesty it will be my honor to take you to my farm where I have built a hut for you."
Her Highness (r.a.) agreed and went with Wakoreya to his farm.
Swiftly Opened The Door of Saintliness
Her Highness Amma Marium (r.a.) narrates that;
"The endeavor of era of prayers & mystic exercises was concluded in a few days by the divine attention and kindness of His Highness (r.a.) because I was a thin and weak woman. Therefore, His Highness (r.a.) kept a special sight on me and swiftly opened the door of saintliness for me then His Highness (r.a.) behest me to stay near Him."
Chirag-ud-Din (Lamp of Religion)
A particular place was appointed for Her Highness Amma Marium (r.a.) in Waki and there one more lamp/candle lighted the other. Now the benevolence of His Highness (r.a.) was also being spread by Her Highness. Venerable Tajuddin (r.a.) always sent a thousand of seekers to visit Amma Marium (r.a.) and those seekers always returned with their wishes completed. Spectators observed that without any worldly communication Her Highness Amma used to say the same verses at her residence that His Highness (r.a.) had already said at his Durbar (Royal court)
Often, His Highness (r.a.) used to visit Amma Marium (r.a.) and would also take her in His royal coach for an excursion and while returning Her Majesty would stay back at her residence.
A Sight of Prestigious Attention
His Highness Bawa Tajuddin (r.a.) recommended his followers, devotees and seekers that they should visit Her Majesty Amma before visiting Him. Hence, it could be estimated that the prestigious sight of His Highness (r.a.) was on the peak of greatness. Evidence of this is that His Highness (r.a.) never met his seekers who used to come to His Highness (r.a.) without visiting Her Majesty Amma. People even noticed that His Highness (r.a.) never denied Her Majesty Amma in any aspect.
When His Highness (r.a.) migrated to Waki He was accompanied by Her Majesty Amma. Apparently by then Her Majesty Amma was a miraculous saint.
The Auspicious Name and the Title/Address
His Highness (r.a.) with a high respect used to address Her Majesty Amma by His mother's name and would say "She is My mother". His Highness (r.a.) delivered a title to Her Majesty Amma that was
"Brother Abdul rahim"
And then rarely He called Her with the same name. His Highness (r.a.) also awarded Her Majesty Amma with the following titles:
Mera Aftab Abdul rahim (My Sun Slave of  Merciful Allah)
Mera Mah-tab Abdul rahim (My Moon Slave of Merciful Allah)
And said "look at my Abdul rahim who is even after tavern (divine wine of Allah) is saying "Hal Min-mazid-in (Give Me More)" and is still in her consciousness.
Unite with Almighty Allah
One day His Highness (r.a.) came to Her Majesty Amma and said;
"Take your comb and your key"
She took veil from this materialistic world on the 27th of Shawal 1337 Haj'ri and according to the geog it was 25th of July, 1919, Friday in the city of Shakardara. She departed this materialistic world at the age of 35 and by geog calendar she was 34 years old.
To Enrapture the Shrine
The day of Urs-e-mubarak (i.e. the annual celebration in the memory of departed) is celebrated in a very splendid manner. The arrangement of Urs-e-mubarak is done from Taj Abaadh.
On the third day of Urs-e-mubarak the qawali (mystic chorus) began. The Tomb of Her Highness Amma Sahiba (r.a.) was to be seen in tremor and the people were in a vanity that the shrine of Amma Sahiba (r.a.) would collapse.
His Excellency Hazrat Baba Yusuf Shah Taji (r.a.) narrates that for the requiem's (prayers for the departed) arrangement of Her Highness (r.a.) was in compliance order of Bawa Tajuddin (r.a.) that the first Urs-e–mubarak should take place under the special obligation care of Baba Yusuf Shah Taji. Countless devotees of Amma Sahiba (r.a.) were present on the Urs-e-mubarak. The gathering of spiritual music was on its peak and the qawals were reciting:
"Phir Mein Kyon Na Itraon Sakhi Re Muri Chunariya Baba Ne rang Di"
It means:
O' My companions, why I should not coquettishly bashful; my fly flapper has been dyed by Baba"
Suddenly, the Shrine of Amma Sahiba (r.a.) came to be enraptured the crowd present there was afraid, astonished and amazed. Then Baba Yusuf Shah Taji ordered that all the four corners of the Shrine should be covered with a chadar (a plain cloth) and said "cover the Tomb with Bawa Tajuddin's jubbah (dress of a saint) which is given to me by His Highness (r.a.). After putting the jubbah (dress of a saint) on the tomb, the state of the shrine changed and was back to normal. This was a very popular incident that occurred at Her Highness shrine.